Team Toto usually likes things with a clean, crisp look. No busy patterns or garish colors for us. We have surrounded ourselves with taupe and beige things throughout our adult life. It's true: Mr. & Mrs. Excitement we're not. Also, we have no real creative knack for design. We know what we like when we see it, but creating it… we're challenged.
So when we chose a fabric for all of Toto's cushions and window cornices, we got a little too understated… resulting in:
Nothing to do here but… add pillows! We found some livelier fabric, hauled out a long-ignored sewing machine, and made some pillow shams (for the bed) as an experiment.
We looked into making more pillows with our newly discovered sewing skills, and found that buying them from Cushion Source would cost no more buying the materials and making them ourselves. So, this year's Team Toto holiday gift was a lot of pillows.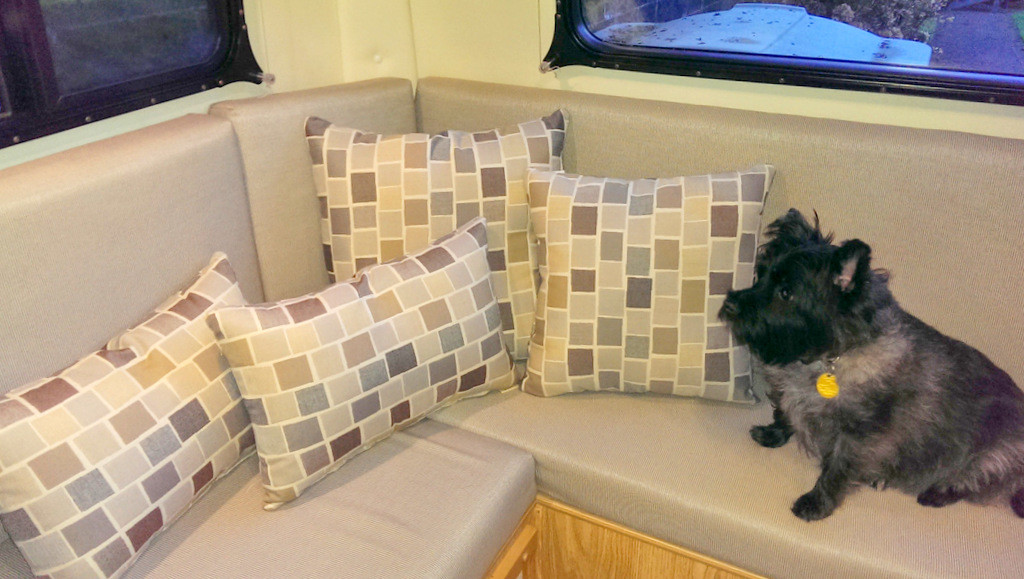 Then one weekend I went nuts and re-covered all the window cornices.
Now, Toto has a (relatively) exciting interior. All set for wilderness camping!
Sharing is caring!










Following is daring.